GoDaddy SSL For WHMCS
From ModulesGarden Wiki
GoDaddy SSL For WHMCS will allow you to offer SSL certificates to your clients. They will be able to define and order certificates directly in your client area.


Moreover, the module will give you access to SSL configuration details as well as enable you to terminate certificates and renew them after the expiration date.
✔ View Certificate Status
✔ View Certificate Expiration Date
✔ View Basic Certificate Details
✔ View Certificate Registration Period And Expiration Date
✔ View And Download Generated Certificate
✔ Requires Authorized SSL API
✔ Renew Support - Automatically Renew Certificate For Recurring Products After The Expiration Date
✔ Supports PHP 7.1 Up To PHP 7.4
✔ Supports WHMCS Template Six
✔ Supports WHMCS V7.9 And Later
Installation and Configuration
This tutorial will show you how to successfully install and configure GoDaddy SSL For WHMCS.
We will guide you step by step through the whole installation and configuration process.

Important: Enabling SSL certificates for sale via API requires review processes from GoDaddy and it is not a default option.
In order to add SSL Certificates to your reselling offer, please contact GoDaddy on this matter at [email protected].
Installation
1. To start with, make sure that you are GoDaddy API Reseller and your API User account is active.
Info: Please note that GoDaddy API Reseller and GoDaddy Reseller are not one and the same! Our module can be successfully used only with the former account.
2. Log in to our client area and download the module.
3. In the downloaded file you might find one or two packages that support different PHP versions.
In the most recent versions of the module, you will find only one package that supports PHP 7.1 and later.

Previous updates of the module may contain two packages dedicated to various PHP versions.
The first one that supports PHP 5.6 up to PHP 7.0, and the second one addressed to PHP 7.1 up to PHP 7.3.
Note: Keep in mind that PHP versions 5.6 up to 7.0 are no longer officially supported and their security issues are not fixed or released any more. Find more info here.
Note: You can check the current PHP version in your WHMCS. To do so, proceed to 'Utilities' → 'System' → 'PHP Info'.
4. Extract the package and upload its content into the main WHMCS directory.
The content of the package to upload should look like this.
5. When you install GoDaddy SSL For WHMCS for the first time, you have to rename the 'license_RENAME.php' file.
The file is located in 'modules/servers/GoDaddySSL/license_RENAME.php' . Rename it from 'license_RENAME.php' to 'license.php' .
6. In order to configure your license key, you have to edit the previously renamed 'license.php' file.
Enter your license key between the quotation marks as presented on the following screen. You can find your license key in our client area → 'My Products'.

Obtain API Key
Before you proceed, you must generate your GoDaddy API Key and API Secret. You will need them to activate your registrar module.
Underneath you will find instructions on where to find your API details.
8. You will be moved to the section where you can generate and then manage your keys.
Please click 'Create New API Key' and a new window will pop up.
Put your key name and decide whether the key should apply to the 'Production' (live) environment or to the 'ote' (test) environment.
9. Press 'Next' to generate new credentials. Keep your API 'Key' and 'Secret' in a safe place. You will need them in a moment.

Note that it is not possible to view the API 'Secret' again!
Press 'Got it!' to finish.
Configuration of Server
10. Now we will show you how to configure a new product.
Go to 'Setup' → 'Products/Services' → 'Servers' and press 'Add New Server'.
11. Next, you will have to enter hostname, username and password.
For the hostname you can use:
api.godaddy.com - for production (live) environment

api.ote-godaddy.com - for ote (test) environment
Then, choose 'GoDaddySSL' from a dropdown 'Type' menu.
Now, in the:
Username field put your API Key
Password field put your API Secret
You should also tick the Secure box at the bottom to use SSL mode for connections.
Finally, press 'Test Connection' to make sure that the provided credentials are correct and save changes when ready.
12. It is time to create your server group. To do so, click on 'Create New Group'.
13. Enter the group name, click on your previously created server, press 'Add' and afterward 'Save Changes'.
Configuration of Product
14. In order to create and configure a new product, go to 'Setup' → 'Products/Services' → 'Products/Services'.
Click on 'Create a New Group'.
15. Enter the product group name and press 'Save Changes'.
16. Once you have a product group, you can easily assign your product to it.
To create a product, click on 'Create a New Product'.
17. Afterward, choose your product group and its type from the dropdown menus, enter your product name and press 'Continue'.
You should also leave the 'Require Domain' box empty because the domain will be later on obtained from the provided CSR.
18. Now, go to the 'Module Settings' section, choose both 'GoDaddy SSL' and your previously created server group from the dropdown menus.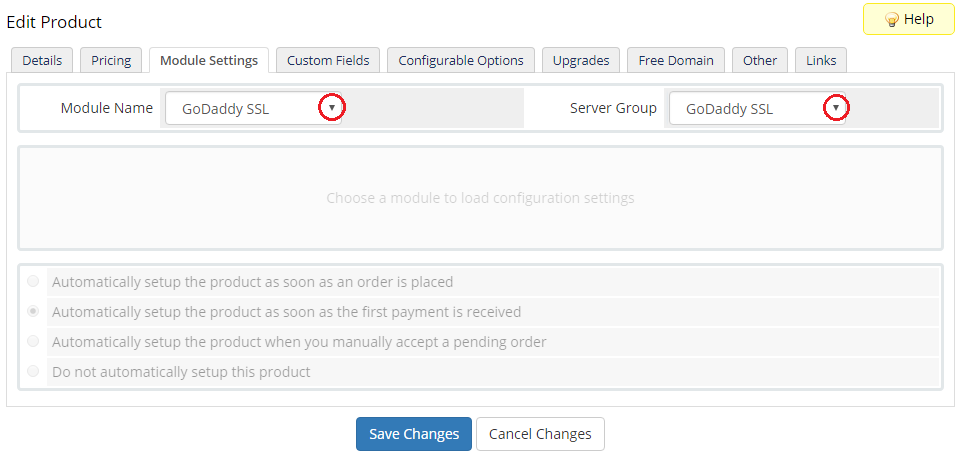 19. Here you can configure your certificate parameters.
Make sure that any configuration you specify here is matchable with the certificates that can be offered by your GoDaddy account. Otherwise, errors might occur.
SAN Count - decide how many sites maximum can be protected with the selected certificate type. Note that this configuration will be applied only if the given certificate supports multiple SANs.
Signature Algorithm - select which 256-bit SHA-2 you want to use for the issued certificate. Note that currently all new certificates must use SHA-2.
Certificate Type - choose the type of certificate you want to offer. Please note that certificate names are taken directly from API, but you can change them to a more user-friendly format in the language file
Intel vPro - this option is dedicated for the Intel® vPro servers and should be used with Deluxe OV SSL certificate. Click here to learn more.
Please note that the registration period of the certificate is based on your recurring settings defined in the product's 'Pricing' tab.
'Annually', 'Biennially' and 'Triennially' periods are supported by the module but make sure that they match the period which can be offered for the selected certificate type.
The module also supports automatic certificate renewal when the recurring product period is nearing its end.
Note: If the product pricing is set to 'Free', 'One Time' or any other than the ones mentioned above, the module will set the certificate period to 'Annually' by default.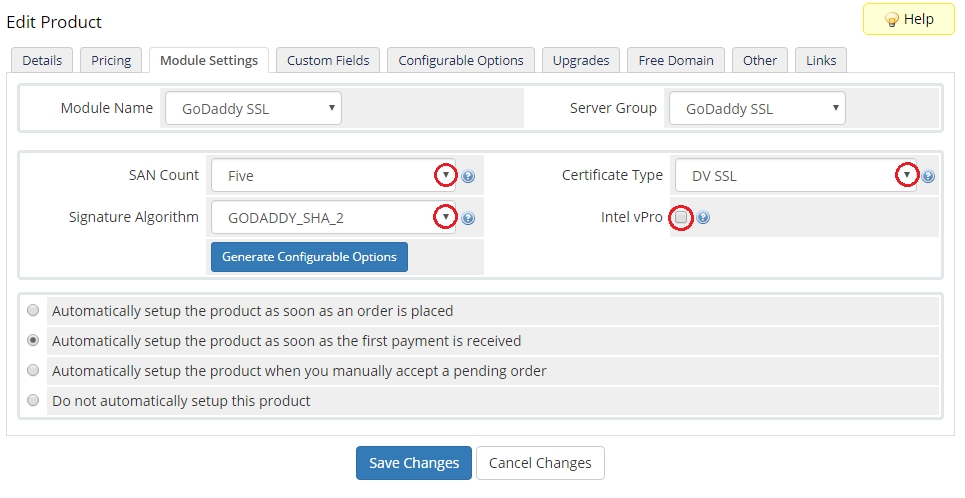 20. Optionally, you can generate the configurable options.


Use the configurable options only if you wish to provide your clients with variables which will alter the price of the offered certificate during the order. Click here to learn more.
Afterward, you can access the options and edit them in the 'Setup' → 'Products/Services' → 'Configurable Options'
Management
GoDaddy SSL For WHMCS allows you to offer fully configurable GoDaddy certificates to your clients.


Additionally, you have the ability to view certificate details and manage each provisioned certificate.
Admin Area
In the admin area you can view the details of each product and check its SSL configuration status.
Among other useful pieces of information you will find: 'Certificate ID', 'Status', 'Certificate Type' and 'Expiration Date'.


Additionally, you can create and terminate every product, as well as manually renew it or initiate the certificate re-keying.
Client Area
GoDaddy SSL For WHMCS allows your customers to order and configure SSL certificates.
Configuration
After order completion each new SSL certificate needs to be configured by your clients before they can use it.


Press 'Configure' to proceed.
You will be forwarded to the next page where you will configure your SSL certificate.

Remember that you need to provide the generated CSR on your own. After successful certificate configuration you will receive a configuration email with details on how to validate your domain ownership.
Until you have confirmed the ownership of your domain, the product will still be awaiting verification.


Please also note that the product 'domain' field will be automatically filled in based on the provided CSR.
Management
As soon as you complete domain verification, your certificate will be generated. On the following screen you can see a successfully configured product.


Here you can view its type, status, common name, period and expiration date.
Additionally, you can view or download the certificate by clicking the 'Show Certificate' button.
Tips
1. The 'Renew' button in the admin area ('Client Profile → Products/Services') may not always work instantly.


It may be caused by GoDaddy restrictions when the certificate is not set to auto-renew.
You can purchase a renewal credit and apply it to the certificate during the 90 days time window (from 60 days before to 30 days after the certificate expiration. Click here to learn more.
2. You can change the displayed certificate type names to more friendly by editing the language file.


By default the 'english.php' file is located in the '/yourWHMCS/modules/servers/GoDaddySSL/langs/' directory. Open it and edit the following records:
$_LANG['DV_SSL']          = "DV SSL";
$_LANG['DV_WILDCARD_SSL'] = "DV WILDCARD SSL";
$_LANG['EV_SSL']          = "EV SSL";
$_LANG['OV_CS']           = "OV CS";
$_LANG['OV_DS']           = "OV DS";
$_LANG['OV_SSL']          = "OV SSL";
$_LANG['OV_WILDCARD_SSL'] = "OV WILDCARD SSL";
$_LANG['UCC_DV_SSL']      = "UCC DV SSL";
$_LANG['UCC_EV_SSL']      = "UCC EV SSL";
$_LANG['UCC_OV_SSL']      = "UCC OV SSL";
Update Instructions
Essential guidance through the process of updating the module is offered here.



Keep in mind there is a quick and easy option in our client area that will let you upgrade the license of your module to an open source version at any time - and at a lower price!
To take advantage of it, simply use the License Upgrade button located on the product's page and a discounted invoice will be generated automatically.

Common Problems
1. When you have problems with connection, check whether your SELinux or firewall does not block ports.